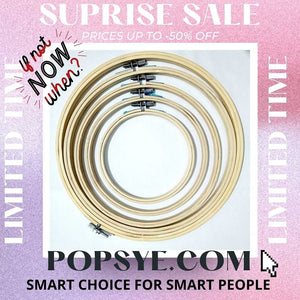 Circle Wood Embroidery Hoop
High quality of Embroidery wood hoops ideal for patchwork, embroidery and other projects.
Embroidery hoops are used for plot embroidery or cross stitch fabric in place while working.
Embroidery hoops can be take out, then put your cloth into the hoop and cover it; can fix your fabric very smoothly and tightly.
These hoops are a perfect decoration for doing embroidery/cross stitch, and also can be used as frames to display your finished projects.
These embroidery hoops have L brackets to allow you to work with any desired fabric thickness, and hoops provide even tension on all fabric edges.
ideal for hanging and displaying cross-stitch art or wall decorations.
Cross stitch hoops with 6 sizes are perfectly suitable for embroidered cloths with diverse sizes.
Circle's diameter:
- 10.5cm(4 inch diameter),
- 12.5cm(5 inch diameter),
- 15.5cm(6 inch diameter),
- 18cm(7 inch diameter),
- 20cm(8 inch diameter),
- 24cm(9 inch diameter),
If you would like to get a quote for shipping multiple items or nee more of this hoop, please start chat with us! Thank you!!!
TAGS
embroidery hoop frame,embroidery frame,embroidery hoop stand,square embroidery hoop,embroidery frame stand,mini embroidery hoops,embroidery frames and stands,embroidery frame price,hoop and frame,embroidery lap stand,embroidery circle frame,hoop frame,embroidery stands,embroidery display frame,tambour embroidery frame,wooden embroidery frame,square embroidery frame,hand embroidery frame,miniature embroidery hoops,round embroidery frame,tapestry frame stand,embroidery hoop ring frame,embroidery pendant frame,diy embroidery frame,aari work stand amazon,rectangular embroidery hoop,embroidery round frame,needlepoint frame stand,diy embroidery hoop stand,embroidery seat frame,large embroidery frame,needlework frames and stands,embroidery stands and frames,hand embroidery stand,diy embroidery stand,embroidery hoop stand diy,embroidery lap frame,embroidery frame amazon,embroidery stand diy,embroidery ring frame,hardwicke manor fanny frame,diy embroidery lap stand,rectangular embroidery frame,lap embroidery hoop,circle embroidery frame,embroidery wooden ring,tapestry hoop,plastic embroidery frame,embroidery frame diy,embroidery hoop display stand,needlework stands,wooden hoop ring,embroidery slate frame,embroidery ring stand,embroidery hoop lap stand,hand embroidery frame stand,wooden frame for embroidery,embroidery frame online,brother persona prs100 hat hoop,embroidery frames for sale,hoop stand for embroidery,embroidery frame cost,brother cap frame,embroidery in frame,wooden embroidery stand,brother embroidery frames,needlepoint hoops frames,frames for embroidery work,flexi hoop embroidery,frame for embroidery hoop,adjustable embroidery stand,embroidery pin frame,magnetic embroidery frames,frame embroidery in hoop,hoop stand embroidery,small embroidery frame,gen 2 hat hoop,embroidery seat stand,best embroidery hoop stand,18 inch embroidery frame,embroidery hoop display frame,embroidery sock frame,embroidery frame hoop,tabletop embroidery stand,magnetic hoops for embroidery,embroidery hoops and frames,embroidery hanging frame,mini wooden embroidery hoops,embroidery hoop and frame,brother pr1050x hat hoop,square wooden embroidery frames,pvc embroidery frame,brother prs100 hat hoop,machine embroidery frames,hoop ring frame,embroidery hoops for framing,18 inch wooden embroidery hoops,embroidery hoop stand uk,stand for embroidery hoop,brother hat hoop and driver,embroidery wall frame,tajima cap frame,diy needlepoint frame,mounting embroidery for framing,best embroidery frame,hand embroidery hoop stand,8 in 1 embroidery hoop,adjustable embroidery frame,professional embroidery frame,tajima hat hoop,hand embroidery wooden frame,mini embroidery frames,oval wooden embroidery hoops,tapestry lap frame,wood hoop stand,embroidery frame 18 inch,dubko embroidery frames,dubko frames,imitation wood embroidery hoop,needlework lap frame,wooden frame for hand embroidery,embroidery in a frame,price of embroidery frame,flexi hoop frames,brother prs100 hoops,brother pr655 hat hoop,wooden stitching frame,table embroidery stand,displaying embroidery in hoop,round needlepoint frame,embroidery cap frame,tajima frames,magnetic hoops for tajima,lap stands for needlework,embroidery work frame,adjustable embroidery hoop,brother pr1050x cap frame,free standing embroidery frame,embroidery hoop cross stitch,hands free embroidery frame,seat frame embroidery hoop,embroidery hoop frame stand,oval embroidery frame,tambour hoop,embroidery hoop and stand,melco hat hoop,square frame for embroidery,diy mini embroidery hoop,embroidery frames spotlight,brother pr600 hat hoop,embroidery hoop stand amazon,fanny frame embroidery,sleeve hoops for embroidery,embroidery lap stand frames,cross stitch embroidery frame,amazon embroidery frame,embroidery hoops for display,sonata embroidery hoop stand,best embroidery lap stand,tambour embroidery frame uk,embroidery hoop stand canada,square embroidery hoop diy,punch needle embroidery frame,amazon aari work stand,brother pr620 hat hoop,lap stand for embroidery,seat embroidery stand,brother embroidery machine frames,embroidery frame uk,embroidery hoop table stand,embroidery necklace frame,cap frame for embroidery machine,lap hoops for embroidery,mounting embroidery in a hoop,brother pr670e cap frame,adjustable embroidery hoop stand,lap frame for embroidery,tapestry frame and stand