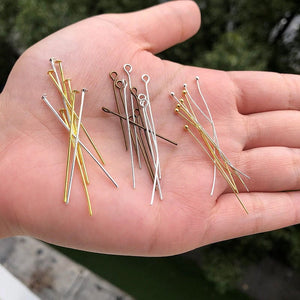 8 Styles Pins: package includes 560 pcs pins in 8 styles, each styles 70pcs; sufficient quantity and various sizes can meet your different needs in DIY projects. All metal pins are packed in a clear plastic container box for easy use and storage.

Size Details: eye pin--length 30mm/40mm/50mm(1.1"/1.5"/1.9"), pin 0.6mm/0.7mm(23 gauge/21 gauge), hole 2mm; head pins--length 30mm(1.1")/40mm(1.5"); ball head pins--30mm/40mm; metal pins for jewelry making bulk assortment.

Design of a Loop at One End: its eye can be used to link it to other components of the jewelry, you can easily create beaded links and dangles for your designs. The other end can be finished with loops and wraps.

Usage: Eye pins are great for making small connector or making your own beaded chain. Simply slide beads onto eyepin and string the beads together, when the eye pin passes through a bead or pendant, its eye can be applied to link it to other components of the jewelry.

Wide Applications: the head pins can be used for dangly earring, pendants, necklace, bracelet, anklets, stringing beaded links, connecting chains,DIY craft, jewelry making, crocheting, knitting and DIY crafting.
TAGS
eye pin,eye pins,one step looper,screw eye pins,1 step looper,evil eye pin,eye pins for jewelry making,eye pins for earrings,eye pin jewelry,evil eye brooch,eye brooch,eye pins for jewelry,evil eye safety pin,eye pins for charms,screw eye pins for jewelry,head pin for jewellery making,head pins and eye pins,mini screw eye pins,screw eye pins keychain,beadsmith 1 step looper,stainless steel eye pins,mini eye pins,sterling silver eye pins,eyeball pin,i pin for jewellery making,small screw eye pins,eye head pins,jewelry screw eyes,keychain screw eye,evil eye enamel pin,screw eye pins for earrings,eye pins use,gold eye pins,evil eye stroller pin,head and eye pins,silver eye pins,eye enamel pin,screw eye pin jewelry,one step looper 1.5 mm,eye screw pins,double sided eye pins,safety pin eyes,eye pin price,jewelry head & eye pins,double eye pin,black eye pins,eye pins amazon,3 inch eye pins,evil eye safety pin meaning,assorted headpins and eyepins,eye of horus pin,evil eye lapel pin,eye pins for rosary making,sharingan pins,head eye pins,eyeglasses pin,small eye pins,all seeing eye pin,evil eye pin meaning,gold filled eye pins,brass eye pins,long eye pins,eye lapel pin,eye of horus brooch,eye pin maker,rose gold eye pins,evil eye brooch pin,screw in eye pins,tiny screw eyes jewelry,screw eye keychain,using eye pins in jewelry making,rosary eye pins,using eye pins for earrings,screw eye jewelry making,eye pin pliers,small screw eyes for jewelry,diy eye pin,third eye pin,eye pins spotlight,eye screw jewelry,making earrings with eye pins,eyeball brooch,silver plated eye pins,eyeglasses brooch,gold plated eye pins,eye pins hobby lobby,sterling silver screw eye pins,bead landing eye pins,beading eye pins,copper eye pins,eye of horus lapel pin,sterling silver eye pins wholesale,bronze eye pins,2 inch eye pins,metal eye pins,using eye pins,eye glass pin,all seeing eye lapel pin,googly eye pin,pin to hold eyeglasses,eye glass pins