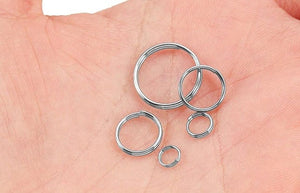 | | |
| --- | --- |
| Material | Stainless Steel |
| Color | gold, silver |
| Brand | popsye.com |
| Item Weight | 100 Grams |
| Number of Pieces | 250 |
---
Stainless steel jump rings
Material: Strong 304 Stainless steel jump rings !! (Lead Nickel Cadmium Free) ; Color: Dark Silver Nickel white K Color-- the color is much darker than silver, simple but durable, fits for most jewelry and crafts

Size: Don't imagine the size by yourself Choose the size you need before buying!!!! you will get 250pcs 1.0x12mm jump rings

Stainless Steel Double-loop jump rings are used as a connector where a single ring is desired. Widely used on jewelry making, arts, crafts, DIY, and so on. These stainless steel jump rings are perfect for handmade jewelry making. it Can be used for necklace bracelets earring anklet bag handbag keychains

Stainless Steel Double Jump Rings Craft Ring Findings for Earring Necklace Charms Pendant Connector Jewelry Making for Crystal Lamps Crystal Curtain Crystal Garland Necklaces Keys Earrings Jewelry Making

Stainless steel is a good weight, sturdy and durable, excellent quality, don't worry about rust and fade, no plating, much safer, It won't hurt your skin.
TAGS
jump ring jewelry making,jump rings for jewelry,jump rings for earrings,earring hooks and jump rings,jump ring necklace,jump ring earrings,making jump rings,types of jump rings,split rings for jewelry making,diy jump rings,closed jump rings for jewelry making,diy jump ring maker,jump ring bracelet patterns,making chainmail rings,jump ring making machine,make your own jump rings,cutting jump rings,bracelet jump rings,best jump rings for clay earrings,best wire to make jump rings,different types of jump rings,jump rings for polymer clay earrings,best wire for jump rings,stainless steel jump rings for jewelry making,small rings for jewelry making,jump ring technique,jump rings for clay earrings,using jump rings,good quality jump rings,large jump rings for jewelry making,soldered jump rings jewelry making,triangle jump rings for jewelry making,jump ring bracelet tutorial,making jump rings from wire,attaching jump rings,colored jump rings for jewelry making,jump ring opening tool,making jump rings for chainmail,earrings with jump rings,jump ring maker kit,sawing jump rings,jump ring making kit,best wire for making jump rings,jump hooks jewelry,jump ring earring patterns,jump ring jewelry tutorial,jump rings maker,jump ring tutorial,jewelry making o rings,diy jump ring jewelry,jump ring making tool,solid rings for jewelry making,jewelry findings jump rings,jump ring cutting tool,wire to make jump rings,using jump rings in jewelry