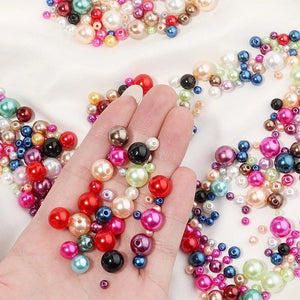 Superior Quality Czech Glass Imitation Pearls,
Base is a Round Czech multi Alabaster Glass Bead which is pearlized 6 times (dipped in pearl essences) and finished with a clear protective layer. These imitation pearls are completely lead free. The whole production process utilizes ecologically responsible technologies and is under a close supervision of EU environmental authorities.

Pearl color: White (multi)
~ Please note that color deviations cannot be avoided. Color shade may change by different production lots.
~ Images are for informational purposes only. Colors on your screen are affected by monitor settings and different web browsers. Slight changes in shades are unavoidable.
TAGS
pearl bead,navajo pearls,swarovski pearls,swarovski pearl earrings,fake pearls,freshwater pearl beads,flat back pearls,glass pearls,mother of pearl beads,pearl beads for crafts,half pearl beads,navajo beads,hama pearls,glass pearl beads,pearl restringing service near me,craft pearls,pearl beads for jewelry making,beads and pearls,white pearl beads,string of bead,small pearl beads,freshwater pearls wholesale,plastic pearl beads,bead restringing service near me,plastic pearl beads wholesale,navajo pearl earrings,mother of pearl letter beads,navajo pearls wholesale,faux pearl beads,pearl beads price,stringing pearls,pearls wholesale,real pearl beads,swarovski crystal pearls,faux navajo pearls,flat pearl beads,swarovski pearls wholesale,mother of pearl flower,pearl restringing near me,pearl restringing,swarovski pearl set,navajo pearl beads,black pearl beads,fake pearl beads,baroque pearl  beads,minecraft pearl beads,pearl seed beads,2mm pearl beads,4mm pearl beads,swarovski pearl beads,preciosa pearls,3mm pearl beads,large pearl beads,flat pearls for crafts,teardrop pearl beads,pearl beads spotlight,rice pearl beads,pearl beads amazon,loose pearls for jewelry making,pearl beads online shopping,flat back pearls hobby lobby,pearl waist beads,pink pearl beads,pearl tasbih,natural pearl beads,vintage navajo pearls,pearl hair beads,tiny pearl beads,large hole pearls,floating pearl,6mm pearl beads,4mm pearl,real navajo pearls,shell pearl beads,8mm pearl beads,acrylic pearls,faux navajo pearl beads,swarovski pearls price,wholesale pearl beads,pearl beads earrings,mini pearl beads,loose freshwater pearls,pearl beads bulk,among us pearl beads,pearl beads jewellery,half pearl beads flat back,water pearl beads,mother of pearl chips,3mm pearls,crystal pearl beads,bead restringing near me,stringing pearls with knots,black beads with pearls,freshwater pearl beads wholesale,flat back pearls and rhinestones,pearls and beads jewellery,oval pearl beads,fake pearls for crafts,gold pearl beads,green freshwater pearls,acrylic pearl beads,freshwater pearls bulk,pearl letter beads,irregular pearl beads,pearl stringing supplies,spotlight pearl beads,pearl reamer,hobby lobby pearl beads,authentic navajo pearls,fake pearls bulk,flapper beads,loose pearl beads,pearl beads shop near me,long pearl beads,pearl beads online,big pearl beads,small pearls for crafts,pearls in bulk,faux pearls for crafts,fake navajo pearls,pearlescent beads,craft pearls without holes,baroque pearls for jewelry making,loreal pearls for jewellery making,2mm pearls,string pearls for crafts,5mm pearl beads,handmade navajo pearls,pearl beads for sale,pearls without holes,red pearl beads,pearl beads near me,beads and pearls jewelry,10mm pearl beads,blue pearl beads,mother of pearl shell beads,navajo pearl beads for jewelry making,gokul pearl beads,pearls for jewellery making,faux navajo pearls wholesale,navajo pearl beads bulk,copper navajo pearls,pearl strands for crafts,navajo silver beads,pearl bead string,czech glass pearls,4mm navajo pearls,flat back pearl beads,keshi pearl beads,knotted pearls,pearls and beads shop near me,miyuki pearls,sewing pearls,green pearl beads,mother of pearl alphabet beads,navajo pearls for jewelry making,half beads flat back,harry potter pearl beads,faux pearls bulk,loose freshwater pearls wholesale,beaded pearl,pearl heart  beads,pearl stringing near me,beaded pearl earrings,pearl drop beads,heart pearl beads,round pearl beads,navajo pearl necklaces,pearl 3mm,decorative pearl beads,half cut pearl beads,flat back pearls near me,pearl beads with holes,colored pearl beads,hama pearls christmas,pastel pearl beads,small pearl beads for jewelry making,swarovski glass pearls,coin pearl beads,pearl beads minecraft,gold floating pearls,navajo pearls with turquoise,flat back pearls wholesale,mother of pearl pikake beads,assorted pearl beads,mother of pearl star beads,pearl mala beads,mario pearl beads,stamped navajo pearls,pearl loreal beads,3mm navajo pearls,glass pearl beads wholesale,sterling silver navajo pearl beads,white glass pearls,large hole pearl beads,pearl beaded necklaces,buy pearl beads,heishi pearls,purple pearl beads,loreal pearl beads,navajo pearls bulk,string of freshwater pearls,freshwater pearl strands,christmas pearl beads,pearl beaded hoop earrings,photo pearls beads,glass pearl earrings,mother of pearl flower beads,1 mm pearl beads,12mm pearl beads,sterling silver navajo pearls,oval shape pearl beads,large pearls for crafts,unicorn pearl beads,white pearl beads for jewelry making,extra large pearl beads,extra large faux pearl beads,pearl beads for sewing,the freshwater pearl company,super mario pearl beads,pearl beads for embroidery,tea beads,freshwater potato pearls,swarovski pearls online,pearl beads for clothing,pearl pony beads,craft pearls with holes,boba beads for slime,navajo pearl jewelry,pearl beads without holes,large fake pearls,craft pearls flat back,flat back pearl rhinestones,cultured pearl beads,buy pearls for jewellery making,faux freshwater pearls,mother of pearl wholesale,original pearl beads,white flat back pearls,pearl flower beads,mop beads,shell pearls wholesale,silver navajo pearls,genuine pearl beads,imitation pearl beads,downtown dazzle blue paparazzi,star pearl beads,swarovski pearls are they real,large hole freshwater pearls,3mm swarovski pearls,loose navajo pearls,navajo pearls for sale,6mm navajo pearls,20mm pearl beads,silver pearl beads,threading pearls,czech pearls,flat back pearls for crafts,pearl beads among us,16mm pearl beads,pearl japa mala,potato pearl beads,cheap freshwater pearls,small white pearl beads,authentic navajo pearl beads,small pearls for jewellery making,pearls of life prayer beads,carved mother of pearl shell,natural silk for stringing pearls and beads,black flat back pearls,navajo pearls near me,3mm glass pearl beads,beads and pearls wholesale,hair pearl beads,mother of pearl initial beads,restringing beads near me,freshwater pearls for jewellery making,sonic pearl beads,2mm swarovski pearls,flower pearl beads,pearl like beads,rose gold pearl beads,6mm freshwater pearls,pearl malas,pearl reamer tool,glass pearls for jewelry making,swarovski flat back pearls,crafts using pearl beads,drilled pearl beads,large flat back pearls,navajo pearls and turquoise,wholesale pearls for sale,chinese freshwater pearls price,beads of pearl,gold flat back pearls,2mm freshwater pearl beads,30mm pearl beads,ivory pearl beads,real and fake pearls,half beads pearl,pearl white beads,star shaped freshwater pearls,3d pearl beads,hobby lobby flat back pearls,plastic pearls wholesale,14mm pearl beads,authentic navajo pearl beads wholesale,half pearls hobby lobby,heart shaped pearl beads,uneven pearl beads,bulk pearls with holes,navajo bench beads,original pearl beads price,pearl bead set,rainbow pearl beads,faux pearl strands for decorating,pearl loose beads,freshwater pearl company,genuine navajo pearls,no hole pearl beads,pearl of beads,white half pearl beads,6mm swarovski pearls,fake pearl strands,mother of pearl heart beads,tahitian pearl beads,pearl shell beads,buy pearls in bulk,craft pearls in bulk,navy blue floating pearls,half drilled freshwater pearls,half round pearl beads,jewellery restringing service,3mm freshwater pearl beads,mother of pearl beads wholesale,pearl restringing service,2.5 mm pearl beads,miyuki cotton pearls,micro pearl beads,pearl and bead necklaces,10mm freshwater pearl,3x6mm oat beads,pearl beads small,oblong pearl beads,artificial pearl beads,pearl tasbih beads,rice freshwater pearls,wholesale freshwater pearls for jewelry making,star wars pearl beads,swarovski crystal pearl beads,loose pearl beads in bulk,buy pearl beads online,mother of pearl mala,pearl star beads,swarovski pearls 6mm,5mm navajo pearls,pearl half beads,4mm glass pearl beads,crafts with pearl beads,half drilled pearls jewellery making,swarovski pearl and crystal earrings,cheap pearl beads,mixed pearl beads,bulk flat back pearls,pearl 4mm,keshi beads,8mm swarovski pearls,20 mm pearl beads,rondelle pearls,imitation pearls bulk,mother of pearl flat beads,red flat back pearls,swarovski pearl beads wholesale,freshwater pearl supplier,bead restringing,buy freshwater pearl beads,pink flat back pearls,swarovski pearl shell,glass pearl beads bulk,pearl strands wholesale,swarovski pearl jewellery,4mm swarovski pearls,green flat back pearls,cotton pearl beads,pearl beads 3mm,biwa pearl beads,faceted pearl beads,no hole pearls bulk,pearl skull beads,pearl stringing service near me,yellow pearl beads,easter pearl beads,pearls and beads online,spiderman pearl beads,real pearl beads for sale,hobby lobby floating pearls,large freshwater pearl beads,murano glass pearls,preciosa crystal pearls,2mm white pearl beads,pearl a beads,pearl beads mala,burgundy floating pearls,8mm freshwater pearl,8mm white pearl beads,pokémon pearl beads,ninjago pearl beads,pearl beads 4mm,saltwater pearl beads,cute pearl beads,pearl beads 6mm,coin freshwater pearls,mother of pearl beads for jewelry making,pearl beads halloween,natural mother of pearl beads,buy freshwater pearls wholesale,fresh water pearls for beading,navajo silver pearls,pearl beads harry potter,wholesale flatback pearls,real freshwater pearl beads,types of pearl beads,navajo pearls sterling silver,pearl bead strands,arts and crafts pearls,giant pearl beads,grey pearl beads,freshwater pearl beads bulk,pearl and gold beads jewellery,faux navajo pearl earrings,pearl beads jewelry making,giant fake pearl,half drilled swarovski pearls,iridescent pearl beads,mother pearl beads,pearl beads for bracelets,teardrop freshwater pearls,craft half pearls,sterling navajo pearls,white pearl beads wholesale,18mm pearl beads,pearl tasbih for sale,glass pearls wholesale,3mm glass pearls,plastic pearls for crafts,freshwater pearls buy,half back pearls,halloween pearl beads,swarovski pearl rings,big fake pearls,big freshwater pearls,small freshwater pearl beads,1mm seed pearls,black mother of pearl beads,freshwater pearl strands wholesale,jumbo pearl beads,white glass pearl beads,mother of pearl evil eye beads,pearl beads 8mm,swarovski crystal pearl in shell,tigers eye pearl,white pearl glass beads,coloured pearl beads,mother of pearl round beads,pearl alphabet beads,tiny freshwater pearl beads,cheap fake pearls,pearl beads star wars,pearl restringing cost,pearl beads mario,pearl hama beads,pearl threading silk,bead restringing service,beaded necklaces with pearls,fake pearls for sale,freshwater pearl mala,large fresh water pearls,mother of pearl bulk,rose gold pearls craft,swarovski crystal white pearl,cream pearl beads,drilled freshwater pearls,4mm white pearl beads,abs pearl beads,hotfix pearl beads,pearl spacer beads,preciosa glass pearls,vintage glass pearls,3mm white pearl beads,2mm glass pearl beads,bead nucleated pearls,pearl beaded bracelets,mickey mouse pearl beads,pearl beads super mario,swarovski 2mm pearls,swarovski pearl cabochon,brown pearl beads,long string of fake pearls,navajo pearl beads wholesale,pearl beads for dressmaking,crystazzi pearls,pink pearl beads for crafts,flat sided pearl beads,loose fake pearls,pearl 2mm,buy fake pearls,pearl beads white,bead landing pearls,chunky pearl beads,miyuki baroque pearl seed beads,orange pearl beads,6mm white pearl beads,natural freshwater pearl beads,6mm glass pearls,akoya pearl beads,czech pearl beads,pearl nugget beads,fresh water pearls bulk,freshwater pearl coin beads,hotfix pearls wholesale,naruto pearl beads,self adhesive flat back pearls,swarovski pearl rosary,fortnite pearl beads,freshwater pearls ethical,long fake pearls,pink mother of pearl beads,large freshwater pearls for jewellery making,navajo sterling silver beads,vintage mother of pearl beads,chanel pearl beads,czech glass pearl beads,mother of pearl bird beads,pearl beads 2mm,knots between pearls,miyuki pearl beads,oval freshwater pearls,pearl and bead earrings,colored pearls for crafts,hama pearls easter,pearl bead rings,blue flat back pearls,8mm glass pearl beads,teardrop pearls loose,king pearl beads,stampin up beaded pearls,2mm glass pearls,hello kitty pearl beads,large craft pearls,pearl beads hair,swarovski crystal pearls 3mm,swarovski pearl back earrings,freshwater pearl seed beads,pearl bead minecraft,pearl jewelry making supplies,pearl stringing service,rockin rockette paparazzi,off white pearl beads,pearl flat beads,real pearl and fake pearl,batman pearl beads,large pearls for jewellery making,pearl faceted pony beads,pearl plastic beads,pearls with big holes,craft pearls no holes,mother of pearl coin beads,swarovski crystal pearls wholesale,bead and pearl necklaces,ivory flat back pearls,14mm swarovski coin pearls,2mm seed pearls,5mm swarovski pearls,butterfly pearl beads,decorative pearls on a string,decorative pearl strands,loose freshwater pearls for sale,faux pearl beads wholesale,ivory freshwater pearls,paparazzi downtown dazzle blue,pearl knotter tool,sewing pearl beads,pearl beads 10mm,freshwater pearl for sale,vintage fake pearls,6mm glass pearl beads,pearls and charms,pearls and stones wholesale,pink freshwater pearl beads,beads n pearls,fresh water pearl bead,hair beads pearl,pearl beads on wire,pearls bulk wholesale,swarovski pearl crystal,8mm flat back pearls,old pawn navajo pearls,pearl beads for vases,pearl beads freshwater,square pearl beads,swarovski pearls 4mm,5mm freshwater pearls,darice glass pearls,navy blue pearl beads,south sea pearl beads,swarovski pearls for jewelry making,paparazzi rockin rockette,pearl pop beads,spongebob pearl beads,sterling silver navajo beads,glass pearl jewelry,pearl beads in hair,swarovski pearl bangle,hobby craft pearls,beading wire for pearls,faux pearl craft beads,graduated navajo pearls,half drilled pearls wholesale,hama pearls halloween,long strand of fake pearls,seed bead pearls,swarovski pearl oyster,teal floating pearls,4mm glass pearls,black glass pearls,mother of pearl cross beads,mother of pearl teardrop beads,swarovski pearls real,baroque freshwater pearl beads,flat back pearl string,freshwater pearl black,freshwater pearls cultured,hotfix flat back pearls,10mm flat back pearls,disney pearl beads,gray pearl beads,pearl cluster beads,pearls for stringing,good fake pearls,paparazzi downtown dazzle silver,peach pearl beads,white mother of pearl beads,freshwater pearl rice beads,plastic pearl necklaces in bulk,aa freshwater pearls,large faux pearl beads,loose pearls for crafts,white freshwater pearl beads,beads and pearls online,champagne pearl beads,chanel beads for sale,fake pearl bracelets in bulk,grey freshwater pearl,keishi beads,mop shell beads,re stringing pearls,cultured freshwater pearl beads,decorative pearls without holes,freshwater pearl loose beads,japanese glass pearls,peacock pearl beads,pearl findings wholesale,8mm glass pearls,cleaning fake pearls,mint green pearl beads,pearl beads unicorn,swarovski teardrop pearls,white swarovski pearls,pearl beads for decorating,swarovski pearl oyster crystal,bulk pearl strands,lavender pearl beads,light blue pearl beads,pearl strands for jewelry making,silk for stringing pearls,vintage pearl beads,darice pearl beads,dyed mother of pearl beads,freshwater pearl beads for jewelry making,griffin beading silk,pearl beads 12mm,drilled pearls wholesale,faux pearls without holes,french wire for stringing pearls,pearlized glass beads,raw mother of pearl shell,10mm swarovski pearls,4mm freshwater pearl beads,black and white floating pearls,bulk fake pearl necklaces,peacock freshwater pearl,semi precious pearl,swarovski pearl colours,freshwater pearl pink,glass faux pearls,1920 flapper beads,navajo pearl loose beads,2 mm freshwater pearls,mother of pearl clover beads,mother of pearl rice beads,swarovski pearl drops,bulk fresh water pearls,light pink pearl beads,pearl cabochon beads,pearl restringing supplies,wired pearl beads,beaded pearl bracelets,loose pearl strands,pearl bugle beads,faceted freshwater pearls,freshwater potato pearl beads,pearl filler beads,baroque freshwater pearls wholesale,pearl round beads,pearl stringing tools,side drilled pearls,large plastic pearls,pearls and beads near me,red and white pearl beads,teal pearl beads,white pearl beads in bulk,14mm freshwater pearls,large hole freshwater pearls wholesale,pearlized pony beads,mother of pearl pendants wholesale,navajo pearls faux,dark freshwater pearls,haley family navajo pearls,large plastic pearl beads,lavender freshwater pearl,loose faux pearls,mother of pearl leaf beads,bead cages sterling silver,large hole baroque pearls,marilyn platero navajo pearls,mother of pearl disc beads,half drilled pearl beads,hot pink pearl beads,loose pearls no holes,pearl mala making,pink pearl beads wholesale,stringing pearls on wire,beaded pearl jewelry,big hole pearl beads,freshwater baroque pearl beads,pearl sewing beads,12mm swarovski pearls,electric pearl reamer,glass pearl necklaces,hobby craft pearl beads,mother of pearl square beads,craft pearl string,fake pearl string,mother of pearl donut beads,tahitian beads,12mm flat back pearls,akoya beads,black freshwater pearl beads,coral floating pearls,large hole freshwater pearl beads,navajo pearl beads for sale,baroque large hole pearls,long fake pearl strands,navajo sterling beads,seed pearl strands,undrilled faux pearls,6mm flat back pearls,faceted mother of pearl beads,pink glass pearls,string pearl beads on spools,3mm flat back pearls,giant freshwater pearls,mother of pearl oval beads,craft string of pearls,freshwater pearls color,large hole pearls for jewelry,mother of pearl strands,glass pearls bulk,large hole swarovski pearls,vase filler floating pearls,irregular shaped freshwater pearls,large hole pearls wholesale,cheap fake pearl necklaces in bulk,14mm swarovski pearls,black fake pearls,2mm flat back pearls,vintage navajo silver beads,30 mm pearl beads,blue mother of pearl beads,burgundy pearl beads,bulk plastic pearls,glass pearl stud earrings,large hole pearls cultured freshwater,fake pearl sets,real pearls from fake pearls,beaded groom mala,suma beads gems & pearls,vase filler pearl beads,heshi pearls,paparazzi downtown dazzle white,white pearls in bulk,fused string pearl beads,large hole fresh water pearls,navajo handmade silver beads,silpada n1602,jhumkas with pearl beads,pastel pearl rosary,mother of pearl vase filler,