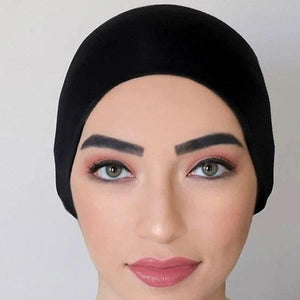 Black stylish Hijab Under Scarf color Caps tube shape or band style cap for inner hijab.
This black inner cap for hijab extends to provide a perfect fit.
Hijab caps online is open on both ends great for long hair or short hairs.
Hijab Underscarf Caps Impressions as easy and relaxed under your hijab.
Head Cap for Hijab Stops both hair and hijab from sliding out.
Inner hijab is 5 inches in length.
Underscarf cap is 9 inches head opening.
Hijab bonnet caps Material is Cotton.
Ninja Underscarf is Machine washable.
ninja hijab cap is cold tumble dry.
do not heat ninja cap hijab online.
hijab inner under scarf caps online size fits all.